If you're on a nonprofit board, you may have been sitting at the table when an Executive Director resigned (or left under other circumstances). Did your mouth go dry?  Were you thinking of things that no one but the Executive Director knew? Did you wonder if the organization could survive?
It's going to take a while to find a replacement. Yes, there are the times when there's someone in the wings who has been groomed to take over (this is where a leadership transition plan comes in handy). In most cases, though, you'll be going through a search. It's going to take a couple of months at best and likely several months to find the right person to run your organization.
Now, you're probably thinking you (the board) can do this.   There may be a board member who wishes to serve as the Interim Executive Director while serving on the board.  That's an unwise idea for a few reasons:
If you ask a current board member to serve in this role, they MUST resign from the board.  Most nonprofits I know don't have enough board members…you can't afford to lose another one!
A board member comes with inherent biases towards the organization – an Interim Executive Director must have a set of fresh eyes and perspective.
The line between board/staff separation is already confusing. This is especially true among small nonprofits where board volunteers may double as staff already.
It's also conflict of interest since they are in essence one of their own supervisors.  Instead, consider an Interim Executive Director and why you need one.
TIME
An important one is time—the time it will take to find a new Executive Director AND manage the organization. Do you, or other board members, have the time?
COMMUNITY
A nonprofit is nothing without its community. Your former Executive Director was probably well known and a presence in the community–you don't want to lose this connection. An Interim Executive Director fills this role or determines someone on the board or community who can help maintain this connection.
An Interim Executive Director keeps the doors open while the board does it job and finds a new director. Interim Executive Directors maintain fundraising activities, ensure reporting happens in a timely fashion, supervises staff and helps the board with its search for a new Executive Director. This last one is a big one as it helps keeps the board keep perspective, motivated and on-track.
THE SHOW MUST GO ON
I just mentioned fundraising.  Just like The Show, the Fundraising must go on!  This is important as time and time again I've seen fundraising simply stop when an Executive Director left. This is dangerous! It will lead to several months of financial stress, cash flow issues and degraded donor relations.
HIRING BEFORE HIRING
So, what does it look like to engage the services of an Interim Executive Director? You might be thinking "I don't have time to hire someone while I'm trying to hire someone." You don't have time NOT to. Hiring a new Executive Director can be a long process. Focus on hiring and Interim Executive Director with experience, ability to plug in quickly and proven processes for getting up to speed.
START THE PROCESS
Your organization will contract with a consultant who offers Interim Executive Director Services.  He/she/they should have previously served as an Executive Director or CEO of a nonprofit.
The Interim Executive Director should NOT be interested in the permanent position. Why?  The Interim Executive Director will be conducting an unvarnished organizational assessment as a part of their scope of work with you.  Ensuring they are not interested in the job eliminates bias in their report to you.
The Interim Executive Director works with your organization for a specified time (for example, six months, or until you hire a new director). The Interim Executive Director is not at your office location there every day, all day. They can be there frequently to manage your staffing, financials, fundraising and other operations.
The Interim Executive Director is also guiding your Board of Directors through the search process. They will review the job description and qualifications. They will look at the budget to see what the organization can afford to spend on the search and on the new director. After that, they can determine the best advertising outlets locally, regionally or nationally for your position.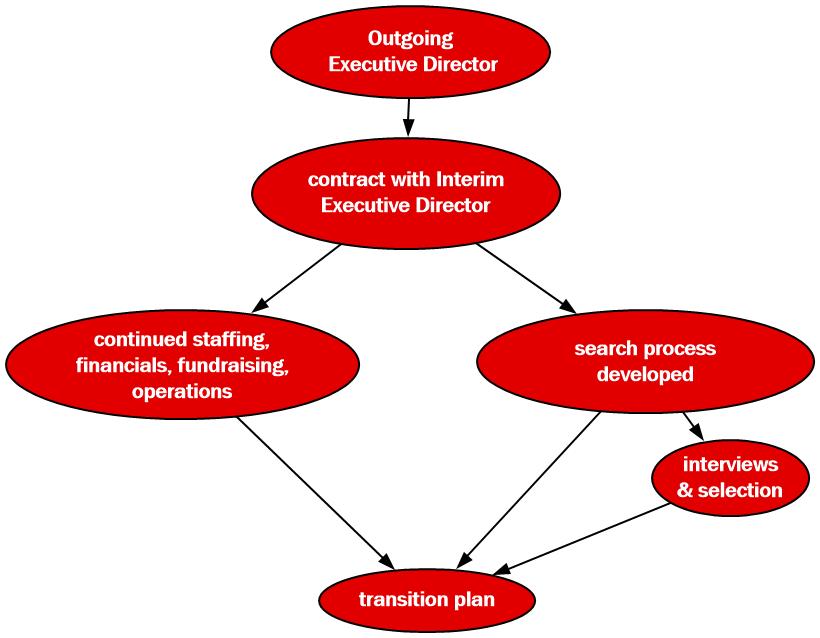 Board members (I recommend you have a search committee of three or four board members) will review applications and select candidates to interview.  The Interim Executive Director helps develop an interview guide and schedule the interviews. When it's time to interview, an objective Interim Executive Director facilitates the discussion.
When the new director has accepted an offer, the Interim Executive Director's work will shift to a transition plan.  The Interim Executive Director remains in the leadership role until the new Executive Director starts the job. If the Interim Executive Director's tenure overlaps, that's even better for a smooth transition.
What questions do you have about hiring an Interim Executive Director? Schedule a Nonprofit Therapy Call with me and we can talk about the process and your goals. As part of Incite! Consulting's services, I offer Interim Executive Director services, or can recommend someone if we're not the perfect match.