I have a story for you about nonprofit leadership.
When I was a young Executive Director, I got a call one day from my Board Chair asking to meet and I knew instantly it wasn't going to be good. He was someone I very much respected and the thought of disappointing him was crushing. The meeting didn't feel good in the moment, but I took his feedback to heart and his words continue to stick with me today.
He told me that I was failing- that it was obvious I was overwhelmed and yet I wasn't recognizing that I had people all around me wanting to help including board members and staff. They just needed leadership and guidance from me. I hadn't taken the time to build genuine relationships and as a result didn't have trust from my team. Thankfully, he believed in me, and I was given the opportunity to learn from my mistakes and able to turn things around. I quickly realized that when I took the time to really connect with people who cared about the mission of my organization, they became inspired and collectively we were able to accomplish so much more.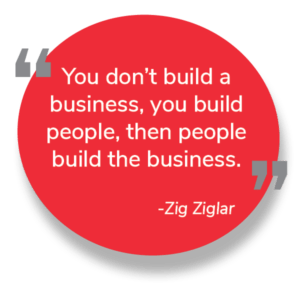 This is true for all nonprofits. I often say as nonprofit professionals, we are in the relationship business. People are at the heart of our work. Taking time to coach staff, give board members the tools they need to champion your cause in the community, and connecting one-on-one with the volunteers who show up every time you need a hand is time well spent.
Think about the important PEOPLE who help propel your mission forward. Next time you are connecting with them, I invite you to keep these four things in mind.
Listen
When you meet with staff and board members, are you fully present? If you aren't, you can guarantee they know it! Listening is a powerful way to make people feel empowered. Ask questions and listen to their response, even if it's difficult to hear. Asking for feedback demonstrates you value the voice of those close to your organization and are committed to learning and growing together.
Build a culture of trust and authenticity
Being genuine and authentic is an important part of building trust. Don't be afraid or embarrassed to ask for help. Being honest about the support you need and things you don't know gives your team permission to do the same. This allows everyone to have a real representation of the challenges that exist and provides a starting point for working together to solve them.
Express gratitude
I would always ask staff how they like to be recognized and would do my best to respect that. Some team members do not want public shout outs but appreciate a handwritten thank you note. Get to know your team and demonstrate this by expressing gratitude in a way that is meaningful to them. Apply this to board members, volunteers, donors, and other supporters.
Follow through
If you say you are going to do something, do it. If for some reason you can't do it, say that, and share why. Letting time go by without communication after a meeting sends a signal that it isn't important to you. Being on the receiving end of that doesn't feel good and is a sure way to disengage someone quickly.
As a nonprofit organization, you are lucky to be surrounded by passionate people who care about your work. All these people are an extension of your team. They are advocates and champions in the community sharing your good work. Invest the time and attention to build authentic relationships. Let your team know you see them, value them, and are grateful for their work. And then celebrate how much your team is able to accomplish by working together. Your organization will be stronger, more resilient, and successful as a result!
If you want to read more about leadership in nonprofits, read Prioritizing Your Own Leadership and Be Successful in Your Delegation Habits on the Incite! Consulting Blog